Days N Daze and Goddamn Gallows w/ Gallows Bound
June 27, 2018
8:30 pm
CDT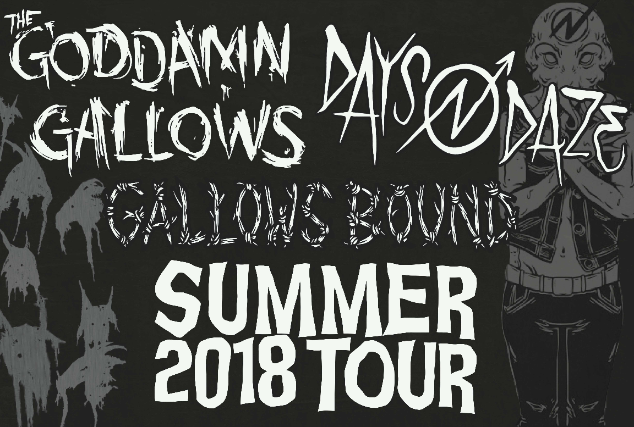 $12.00
Days N Daze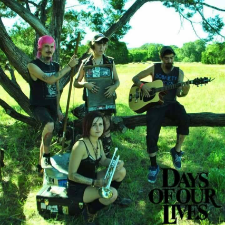 The Goddamn Gallows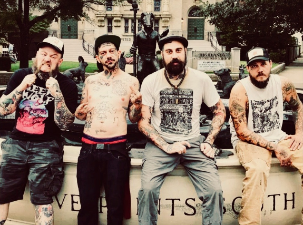 The Goddamn Gallows came from the heart of America's Rust Belt, arising from a night of flophouse violence. Drifting across the states, they cemented their sound in Portland, OR and later in Los Angeles, CA, where they lived in abandoned buildings, squatter camps, storage units and shoebox apartments. In 2007, they left everything behind and spent the next 4 years living out of whatever vehicle would get them to the next town. Building upon their original sound of twanged-out, punk rock gutterbilly (Life of Sin 2004 and Gutterbillyblues 2007), they began picking up stray musicians along the way and adding to their sound; washboard, accordion, mandolin and banjo (Ghost of th' Rails 2009 and 7 Devils 2011) creating a sound referred to as "hobocore", "gypsy-punk" or "americana-punk", while never being stuck in any one sound.
The Goddamn Gallows continue to rapidly grow a devoted following with their volatile and spectacular live shows; a contagious, spontaneous eruption of unpredictability.
Gallows Bound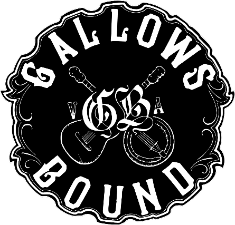 Formed in 2012 in Winchester VA, GALLOWS BOUND consists of a group of six childhood friends who all grew up together in their local punk scene. When they weren't thrashing in their former punk and metal bands, they would play acoustic instruments at house parties, bonfires, and basements. Although deeply rooted in the traditional bluegrass of their home in Virginia, GALLOWS BOUND has a strong affection for their upbringing in punk rock and stitches their influences together in a blazing fury of Appalachian Punk Bluegrass. The band thumbs their nose at tradition in every sense which allows them to weave through many different scenes. Pushing the boundaries in all genres, their diverse range has landed GALLOWS BOUND on varying stages from iconic country landmark Gruene Hall in Texas to NYC's legendary punk house C-Squat. They have been touring the U.S. feverishly, playing over 300 shows in two years and hitting every city possible from coast to coast. In between tours, GALLOWS BOUND was able to hit the recording studio and releasing their newest EP "APPALACHIAN WITCH" in Spring 2017.
Jordan Joyes - vocals, guitar
Jesse Markle - vocals, guitar
Justin Carver - banjo
Aaron Blow - bass
Forrest Veatch- mandolin
Rob Shultz- drums
J.T.S.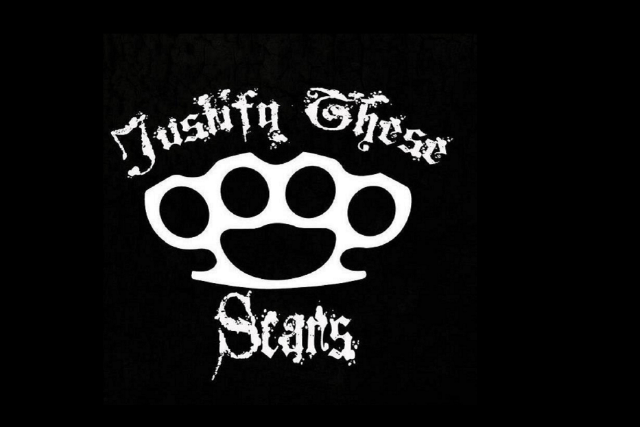 Justify These Scars are one of the most successful punk bands in Birmingham, Al. The band currently receives air play on XM-Sirius Radio and hundreds of stations around the globe. Like most punk bands, J.T.S. formed in the basement of the lead singer (Mike "Frog"
Ray) back in 2007. J.T.S. has gone on to do several regional
and east coast tours. They have shared the stage with the likes of The
Misfits, Agnostic Front, Murphys Law, Unkown Hinson, Helmet, Michale
Graves, Dax Riggs, Marky Ramone, Whole Wheat Bread, Joe Buck/Hank
3, Deadbolt, The Murder Junkies, Maylene,Dr. Chuds X-Ward, and The Sons Of Disaster just to name a few. The band currently has 1 E.P. and 2 more CD's under their belt. Furthermore, J.T.S. has recorded a track called - "Swamp Ass" with former
Danzig/Samhain bassist Eeri Von. Justify These Scars has built a
large following in the area through hard work, tireless
promotion via social and print media, and old school D.I.Y.
philosophy. The are on F.I.H. records and are
getting ready to release there debut CD for the label. This album will
receive world wide distribution.The bottom line is, J.T.S. puts on a great show and bring a brand of punk music that all can enjoy.