Music City Booking Presents
Every Time I Die w/ Wage War and '68
$20.00
Every Time I Die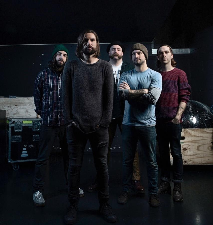 Warning: an excess of blood, sweat and beers were spilled during the making of 2009's most anticipated hardcore-rock album, Every Time I Die's New Junk Aesthetic, out Sept 15 via Epitaph. Thankfully the band has emerged relatively unscathed and more than ready to rouse the hellion legions with their most brutally delectable record yet, and all in time for their upcoming fall "Epitaph Presents" tour.

While there's no exact science to the resulting madness that is ETID's signature blend of turned-to-eleven hardcore mixed with southern-fried metal, over the last decade the band has consistently produced fan-favorite releases from albums Big Dirty to Hot Damn!, with New Junk Aesthetic as icing on the proverbial metallic cake.

"New Junk Aesthetic is not the next logical step in the progression of Every Time I Die," explains front-man Keith Buckley. "It is an evolutionary leap. It's as if we have morphed from a single-celled bacteria straight to the guy with the dirt bike that will let you watch his older sister suntan if you steal him a smoke from your parents. Certainly you may acknowledge similarities, but on a grand scale, they stand light years apart."

Maniacal, convulsive and completely unpredictable are but a few words that come to mind when listening to New Junk Aesthetic. With Big Dirty producer Steve Evetts at the helm again, ETID set out to corrupt souls and bring fans to their knees with an orchestrated chaos of their heaviest most skillful album.

Like the calm before a storm, New Junk Aesthetic opens with the metal-gazer, doom-ridden track "Roman Holiday," and then quickly segues like a sucker-punch into the thrashing first single, "The Marvelous Slut" (featuring guest vocals from Greg Puciato of Dillinger Escape Plan), which sets the tone for the remainder of the album. ETID continues to raise the bar on all fronts, from Andy Williams and Jordan Buckley's one-two punch on guitars to Josh Newton's brutish bass rumblings on "For The Record" and Keith Buckley's stunning vocal range as showcased in the standout thunderous-rock anthem "Wanderlust." On the pit-swirler "The Sweet Life, Keith belts out "ain't nothing gonna break my stride - ain't nothing gonna slow me down,"," which features guest vocals from Matt Caughthran (The Bronx), and pretty much sums up the relentless energy of the band and new album.

As visually stunning as they are musically, guitarist Jordan Buckley has been the artistic force behind the ETID's graphics. The astonishing cover imagery of New Junk Aesthetic features a mythological god covering his eyes with see-through hands and each song is represented by its own unique artwork.

"Aside from contributing to the creation of the 13 greatest Every Time I Die songs ever written, New Junk Aesthetic will also contain almost 40 pages of my hand rendered illustrations, that, for the first time ever, offer visual insight into the genius lyrics that ETID fans have come to expect from my brother and bandmate Keith," explains guitarist Jordan Buckley. "With the band in complete control over what you hear, see and hold, New Junk Aesthetic will move culture into a place where the possession of a CD is an authentic experience so powerful that you won't even be able to cover your eyes; a feeling long overdue, but guaranteed to be worth the wait."
Wage War
Briton Bond (Vocals), Cody Quistad (Guitar, Vocals), Seth Blake (Guitar), Chris Gaylord (Bass), Stephen Kluesener (Drums) ­ With over five years of unmatched determination, the culmination of five Florida musicians' effort is ready to be unleashed. Guitarist/vocalist Cody Quistad and guitarist Seth Blake met in high school when they discovered that they shared musical interests, and started jamming soon thereafter. In 2013, the duo encountered vocalist Briton Bond and, shortly after, bassist Chris Gaylord and drummer Stephen Kluesener were incorporated into the mix. The line-up alone of Ocala, Florida's Wage War sheds a more-than-welcome light on the importance of a solid foundation built upon evolving musicianship. Wage War marks their territory with from-the-heart lyrics and thrashing beats that transcend to a community who understands the trials and tribulations of growing up all too well.

In fact, Wage War IS that community, as Quistad explains, "A lot of the themes in our songs are about growing up to be a productive person, and dealing with the real things that can happen in life and coping with circumstances that could be problematic,"says Quested. "The first single we're releasing, 'Alive,' is an anthem to all the naysayers out there that are always talking about our generation being a bunch of losers."

Blueprints, the band's debut album co-produced by A Day To Remember's Jeremy McKinnon along with Andrew Wade, resounds with all of the tension and ingenuity of its creation. The band delivers 11 tracks of uncompromising multi-dimensional metalcore, filled with high-intensity rhythms, battering drums and blazing guitars, tempered with tuneful vocal passages. Crushing breakdowns alongside a combination of roaring and melodic vocals prove powerful enough to level a small village. Yet, Wage War aren't focused solely on destruction.

"The goal of Blueprints was to establish a foundation," Quistad says. "It';s our first record and our first chance to show people what we're about. So we really went all out to deliver the best songs we could possibly write and play them to the best of our ability. I think a lot of people are going to be surprised."
'68