Mardi Gras Fat Tuesday Party feat. CBDB
February 28, 2017
8:00 pm
CST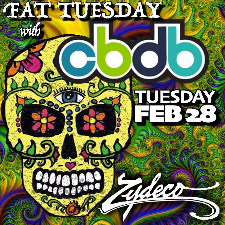 $5.00
Zydeco, Birmingham's only NOLA-based bar will host its annual Fat Tuesday celebration! Doors open at 5pm. We will have free beads and king cake all night long to go along with the best drink specials and music by CBDB.
$2 Abita Draft Beer
$3 King Cake shots
$4 Ragin' Cajuns
FREE King Cake
FREE Mardi Gras beads
Authentic Red Beans & Rice
CBDB
CBDB is a progressive rock/jam band formed in Tuscaloosa, Alabama, whose stock is rising fast. Fresh off the release of their third album, entitled "The FAME EP", they are seeing a pattern of snowballing momentum with large, energetic crowds hungry for their unique brand of progressive jam-rock, dubbed Joyfunk. CBDB blends soulful vocals and virtuosic instrumentation with smart, tasteful songwriting resulting in a sound that can be enjoyed by the casual listener and audiophile alike. On stage, they parade tight, ambitious compositions that seamlessly gives way to loose, adventurous improvisation and have quickly become a must-see act..