Live and Listen
McLovins "No Limit Tour" w/ Mr B and the Tribal Hoose
February 23, 2017
9:30 pm
CST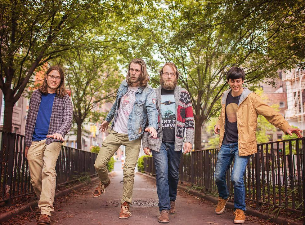 $10.00
McLovin's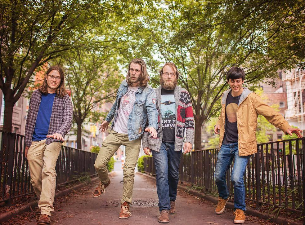 McLovins is a soulful, funk-rock band that complements a youthful energy with seasoned musical talent.
Inspired by an eclectic mix of influences like The Meters, The Band and The Flaming Lips, members Jason Ott, Jake Huffman, Justin Berger, and Atticus Kelly combine their songwriting skills with extended improvisations and instrumental ingenuity.
Taking a page from their jam band forefathers, McLovins always try to keep their audiences guessing at what's to come. Their eclectic setlists and individual musical personas define the band's live shows. Hailing from Hartford, Connecticut, McLovins have appeared at Gathering of The Vibes, Mountain Jam, The Peach Festival and the legendary Nateva Music Festival, as well as many acclaimed venues across the country. They have also performed with some of the most influential artists on the scene, including Buddy Guy, George Porter, Jr. and Oteil Burbridge.
Recently the band cut an album with Emmy, Grammy, and Tony award winning producer Bill Sherman in New York City's East Village. The album was released this October and the band is currently on tour. The band continues to evolve, bringing their distinctive, jam-rock productions across the country. Every tour brings a unique energy.
Mr B and the Tribal Hoose
Mr B & The Tribal Hoose is eager to create a movement that promotes self-expression and creativity. These Nashville locals are exactly the type of eclectic, inclusive, socially conscious performers the world needs right now. This independent six-man ensemble entertains with live hip hop music, incorporating elements of hip-hop, funk, rock, and tasty grooves into their unique sound.
The Story of the Hoose
Mr B began freestyling and recording mixtapes as a highschooler in Phoenix, AZ. He first came in to the public eye after viral youtube video "Wendys Drive Thru Rap". Soon after, he hit the road in support of acts like DMX and Bone Thugs-N-Harmony. It did not take long for Mr B to realize he wanted to perform with more than just himself, and that's when the Tribal Hoose came along. With every member hailing from a different state, the group began as friends improvising live jams with Mr B as he freestyled at local house shows. They quickly realized they were on to something unique and captivating. The band has since grown and had the opportunity to perform at festivals with likes of Soulja Boy and Ying Yang Twins to name a few. They will B releasing their debut album in the Spring of 2017, followed by a tour to promote their album and movement.