Live & Listen Presents:
DirtyGirl Special Late Night Show
February 16, 2018
11:00 pm
CST
$10.00
DirtyGirl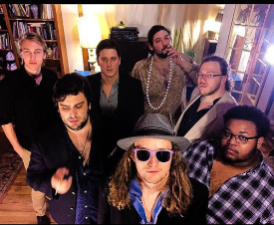 DirtyGirl is an original 7 piece band from Birmingham, Alabama. There is only one way to contain the genre of DirtyGirl... PowerFunk. Formed in 2014 by original members Chase Graham, Will Smith, and James Daniel. As the musical fusion ensued, the 3 decided that a band needed to be formed. The three began playing small venues and open mics across the city. As DirtyGirl slowly made a name for themselves in the underground market, they began expanding their lineup. After multiple names, and multiple different band members. DirtyGirl was established as a 7 piece line up, consisting of Willy " The Reverend" Smith singing lead vocals and playing harmonica, Chase "Teddy" Graham on guitar, James " Boudreaux IV" Daniel on bass guitar, Jake "Mad Sax" Madonia on Saxophone, Eric Rick "James Norman" on trombone, Reid "Built for comfort, not for speed" Fincher on keyboard, and Drew " The Funk Commander" Alexander on Drums.