Nick Moss Band w/ The Dozens
September 3, 2017
8:30 pm
CDT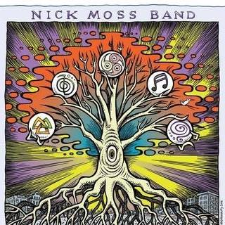 $8.00
The Nick Moss Band
Nick Moss has gone back to the future on From The Root To The Fruit, expertly creating an album that feels like a career retrospective but with new songs. Moss reaches back to his early days playing Chicago blues the way he learned itas apprentice to the legends, and explored as a bandleader in his own right, while simultaneously building on the explorative, improvisational efforts of his most recent work.
Equally remarkable is how he has pulled from his past and present without recycling old ideas. He and the band reach beyond Chicago, masterfully exploring Texas swing and shuffles while co-vocalist Michael Ledbetter's voice drips with the kind of soul reminiscent of the Memphis greats. That nimble agility is deployed to similarly powerful results when the band cuts loose and synthesizes all these influences in searing extended jams that soar and explore without wandering.
From The Root To The Fruit is better than a greatest hits album because these two discs and 27 songs are powerful proof Nick Moss Band is still vital and full of ideas two decades into an amazing career.

—Josh Hathaway, Blinded By Sound
The Dozens
Named one of the "Top 15 Artists To Watch" by al.com, The Dozens released their debut EP in 2015. Recorded and produced by Grammy winner Jimmy Nutt, Hittin' The Note magazine called the release full of "Macon essence and Memphis grease". The band's first single, "Gravity's Pushing," was named one of "10 must hear songs of 2015" by al.com. Writer Matt Wake described the song as "Gospel-tinged vocals and Allmans-worthy slide guitar". Shelley Butler's vocals on their follow-up album "Test" due out July 14, 2017 has already been compared to the "power and soul of Susan Tedeschi" by the Southern Rambler.