65 South Fest
August 5, 2017
2:00 pm
CDT
Outdoor Street Festival
$25.00 - $120.00
TICKETS ON SALE AT THE DOOR. GA and VIP.
65 South Fest
Outdoor music festival at Zydeco.
2001 15th Ave S, Birmingham, AL 35205
Gates open at 2:00PM
This second annual event will feature Alabama's brightest country music stars!
General Admission: $25 - $40
- Tier 1 - SOLD OUT
- Tier 2 - SOLD OUT​
- Tier 3 - $35.00​
- Door - $35.00 / $40.00​
Note: There are no differences in tiers other than price. Once one tier sells out, the next will become available. If buying General Admission, buy the cheapest ticket available.
Southbound VIP Package - $95 Advance / $115 Door (if available)
One (1) VIP ticket to 65 South Fest.
One (1) priority entry pass, exclusive VIP entrance.
One (1) VIP Access to exclusive front and center viewing area - with private bar and restrooms.
One (1) 65 South Family Photo, you will be included in a group photo with Riley Green, Muscadine Bloodline, and more 65 South Fest artists.
One (1) exclusive 65 South Fest merchandise item.
One (1) GA ticket to official afterparty (inside at Zydeco).
Note: VIP purchasers - you will be contacted by an artist rep approximately 48 hours prior to the show with further details regarding the VIP Experience. VIP Packages are non-transferrable and non-refundale. Only the orginal purchaser will be able to claim VIP merchandise, and include the artist photo.
"ticketFast" Method of Delivery is suggested, print at home tickets can be physically printed out or displayed on your phone to be scanned at the door.
No refunds or exchanges
65 South Fest is a RAIN OR SHINE event.
"ticketFast" Method of Delivery is suggested, print at home tickets can be physically printed out or displayed on your phone to be scanned at the door.
The Official 65 South Fest Afterparty will take place at Zydeco directly after the main event. The ticket to the main event does not include entry into the afterparty, a separate fee will be charged for entry.
Riley Green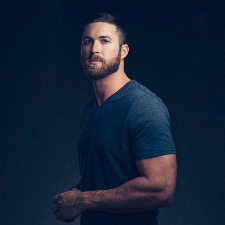 If Riley Green isn't strumming a six-string and singing, chances are you'll find him dropping a line in the Ohatchee River, deep sea fishing in Orange Beach, AL, turkey hunting at his primitive camp in Arkansas, or deer hunting at his 'Back 40 Bash' property. For this 6'4, blue-eyed, country crooner from Jacksonville, AL it's not just a "Country State of Mind" - it's a lifestyle.
Riley has achieved an incredible amount of success for someone doing it all on their own. Though you wouldn't know it by talking to him, Green is as humble as they come for someone who has released three popular EP's, stars in two TV shows (Winner of Redneck Island on CMT and his very own hunting show on DirtRoadTV), thousands of social media fans/followers, and has played across the southeast for the last 5 years to hordes of music lovers singing the words of his Alabama anthem ("Bury Me In Dixie") back to him. People don't even realize Riley's an accomplished musician when meeting him. He's not inclined to brag or talk about himself.
Riley was born into songwriting and performing; spending days and nights with his grandfather, Bufford Green. "My PawPaw opened a music hall in 2003, where he'd always say music goes from 'The Bar Room to The Pulpit and Back' each Friday Night. My Granddaddy Buford taught me a love for the sound of old traditional country, bluegrass, and southern gospel music," explains Riley. The youngster performed at the Golden Saw Music Hall, singing songs like "Wreck on the Highway" and "Precious Jewel" by Roy Acuff with his grandfather and other men of his generation. "My Best Friend" was written as a tribute to his Granddaddy Bufford and the influence he had on Riley's life & music. "Line in the Water" was inspired by fishing trips with his other grandfather, Granddaddy Lendon, who left a mark on the southern boy by showing him how to truly relax and enjoy the southern lifestyle.
Outside of music, Riley always found time for athletics. Riley, a three sport athlete in high school and a walk-on quarterback at Jacksonville State University understands the importance that comes from playing sports and being part of a team.
Many of Riley's next generation of songs reflect on the experiences of a young southern man trying to find his place in the world. With a mixture of outlaw-rebellion and respect for tradition, Riley combined these values to create his own style. "'A Little Hank' and 'Almost' reflect the battle of values and what my grandfather referred to as 'the fine line between Saturday night and Sunday morning,'" he explains. Green's latest EP titled "County Line" which was released earlier this year and reached #14 on the iTunes Country Chart. He has also been recognized by BuzzFeed and Whiskey Riff as an up-and-comer to keep an eye on.
At the end of the day, Riley Green is still that Alabama boy grounded in the values instilled by generations of southern gentlemen. The outdoors man (who is more than likely to address you by Sir or Mam) remains true to himself whether he's headlining his annual homecoming show (Back 40 Bash) in front of thousands of fans or tending his deer plots as his golden Labrador (Sadie) follows close behind. This is only the beginning for the next country music star from Dixie! For more information on Riley Green visit www.rileygreenmusic.com
Muscadine Bloodline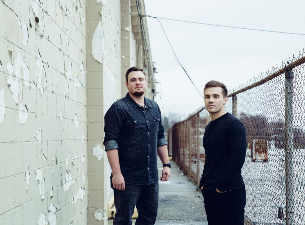 Muscadine Bloodline
Unapologetically Alabama. There's a new force making major waves in country music. Natives of Mobile Alabama, Gary Stanton and Charlie Muncaster came together to form Muscadine Bloodline in early 2016. With three single releases under their belt and a schedule full of shows spanning from coast to coast, they've hit the ground running from day 1. Nashville took notice the first time these two stepped on the stage and it's no surprise the rest of the music world is quickly catching on. Charlie's [contemporary] vocals complimented by Gary's harmonies and masterful guitar licks, MB is a powerfully refreshing mix of talent, passion and unfiltered authenticity. Infamously undaunted by the big stage, their sound intertwines the brash irreverence of early southern rockers with the seductive quality of 90s country love songs. Captivating hooks heard in songs like "Porch Swing Angel" and the aggressively anthemic "Shut Your Mouth" stand as a testament to MB's wide ranging music-making capability. Every song and every show is a moving experience but at the same time, unmistakably Muscadine Bloodline.
Murphy Elmore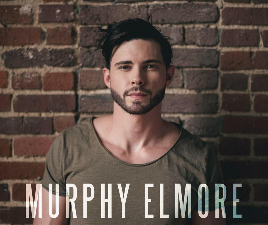 Adam Hood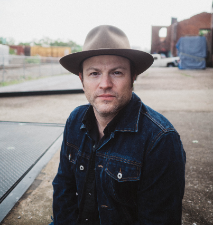 With a John Denver grin and mind full of Alabama attitude, Adam Hood knows the beautiful mess of blue-collar love and everyone on Music Row wants in. Tracks from his critically acclaimed 2011 album The Shape of Things have been cut by Little Big Town, David Nail, Josh Abbott Band, Brian Keane and John Corbett. The legendary Willie Nelson and Leon Russell have each picked Hood for respective national tours.
Free from his contract with Carnival Music, Hood is taking advantage of his newfound independence with his rough and wild fourth studio album Welcome to the Big World. With producer Rachel Loy at the helm, the 11-track collection is a biographical masterpiece that ranges from Delbert McClinton roadhouse rock to Kris Kristofferson storyteller folk, with a mix of timeless two-step shuffles.
Welcome to the Big World kicks off with the split-tempo barnburner "Don't That Sound Like Love," which celebrates the sacrifices of love on a budget accented with Freddie King blues guitar and piano riffs in Russell style. A Top 5 hit on both Texas Music Charts, lead single "Trying to Write a Love Song" is a straightforward, booze- and truck-free anthem about chasing a woman in a hot dress to cure writer's block.
Moving his beloved daughter three times before the age of 15 provided framework for the striking title track, a coming of age two-step that serves as a roadmap in major life changes.
With lyrics, "Welcome to the big world / Welcome to your age / Where everybody says, 'No one said this was easy.' / Baby, it's a big world / A revolution everyday / But you can't see what I can / The whole thing's in your hands," Hood suggests the key to surviving life's struggles is positive independent thought.
"It's the heart of the collection," Hood says. "I'm learning to live with my abilities and be content with my place in life. Those are grownup things to deal with, but in the big world, it's something we all have to do."
Grammy-nominated hit-maker Will Hoge co-wrote the imagery-ridden "Postcards and Payphones," a rambling ballad that describes the pain and loneliness of touring life. Charlie Worsham co-wrote the fun-loving "Countriest," which stars Texas darling Sunny Sweeney in her guest harmony debut. A live and rowdy crowd at Billy's Icehouse in New Braunfels, Texas backs Hood on the raucous "Bar Band."
Classic "missing you" themes are tackled on the shuffle "Whole Lot of Hard Work," the Creole accordion-anchored "Stars Around a Cajun Moon" and the heartache-driven "Way Too Long."
"He Did" is a tribute to his late father Larry Hood, a second generation timber man who lost his battle with colon cancer in 2010. The acoustic tearjerker celebrates inherited habits, both the good and the bad. Closer "I Took a Train" is a salute to one of Hood's top musical heroes John Prine.
When he's not making music in Nashville or building his loyal following in Texas, across the Southeast and beyond, Hood can be found in at home in Northport, Alabama where he raises a family and keeps a healthy garden of homegrown vegetables. "I've been blessed to have my name listed among my friends' and heroes' albums, but nobody's going to deliver my music like I do," Hood says with confidence. "These songs probably wouldn't be suited for anyone else but me. I'm so thankful I still have the desire to write them and get them out there to whomever will listen."
Tyler Reeve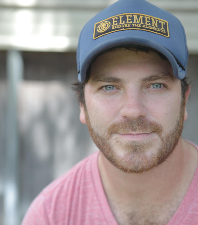 Don't judge a book by its cover. One of Nashville's hottest songwriters and up and coming artists, Tyler Reeve, may look like everybody's All-American with his flipped ball cap and quarterback shoulders, but his lyrics are light on tailgates and dirt roads, and heavy on memory-evoking imagery.
Originally from Mobile, Alabama, Tyler first cut his teeth performing on the college scene in Tallahassee, FL. Moving to Atlanta then Nashville, Tyler turned his focus to songwriting, quickly establishing himself as both a performer and one of Nashville's most sought after co-writers.
Tyler's catalogue includes numerous album cuts and singles, including Love & Theft's critically acclaimed single, "Whiskey On My Breath," Brett Young's "In Case You Didn't Know," and Luke Combs' "I Got Away With You." ABC's "Hitting the Right Note," which spotlighted Tyler as a songwriter and up and coming star, was nominated for an Emmy Award. He is signed to Mucho Love Music (publishing), and is currently recording an EP set for release in mid 2017.
Trey Lewis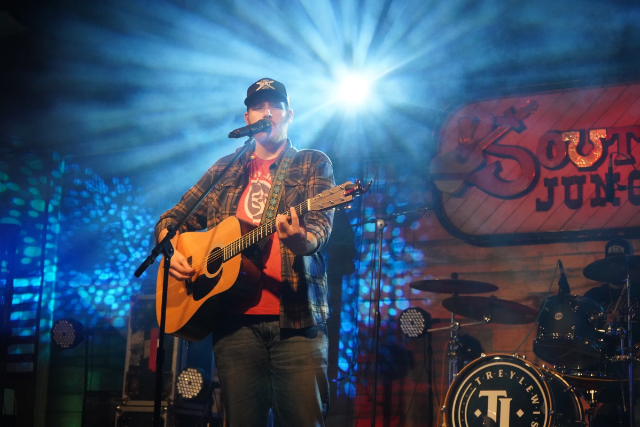 Trey Lewis is not only an exceptional musician but a remarkable songwriter as well. He has overcome extraordinary circumstances in his life and he is out to share that message with the world.
Bigger than life with captivating energy and boundless talent are
just a few ways to describe the Birmingham based artist. When
Trey performs you get a feeling that his music is exploding from
his very soul. From his well conceived self-titled album is a
sequenced storyline of his own life, in which breaks the restraints of failed relationships and conquering loneliness, as well as remembering the good old days, with songs like "Country Boy Crazy" and "Play It Loud". Trey continues to work hard and write new music as he performs at some of the top venues throughout the Southeast. He has also opened for several national acts such as Craig Morgan, Frankie Ballard, Cannan Smith, Jon Pardi, Kristian Bush and Chase Bryant.
DJ South