Marcus King Band w/ Southern Avenue
March 30, 2017
8:30 pm
CDT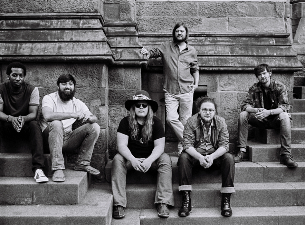 $10.00
Marcus King Band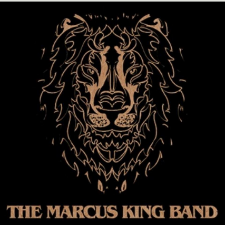 THE MARCUS KING BAND - BIO
Songwriter. Guitarist. Singer. Bandleader. At only 20 years of age, Marcus King's dazzling musical ability is evident throughout The Marcus King Band, the young phenom's 2nd full-length LP and first for Fantasy Records. Operating within the fiery brand of American roots music that King calls "soul-influenced psychedelic southern rock," the album highlights King's gorgeous, rough-hewn vocals, soaring guitar work and heartfelt songwriting all amidst a group of masterful musicians who, together, are quickly becoming one of the country's most sought after live acts.
Raised in Greenville, South Carolina, King was brought up on the blues, playing shows as a pre-teen sideman with his father—bluesman Marvin King, who himself was the son of a regionally-known guitarist—before striking out on his own. Going beyond the sonic textures of his acclaimed 2015 debut album, Soul Insight; The Marcus King Band broadens his sound, touching upon everything from funky R&B to Southern soul and Americana in the process. His band gets in on the action too, stacking the songs with blasts of swampy brass, a lock-step rhythm section and swirling organ. Ever the multi-tasker, King bounces between several instruments, handling electric and acoustic guitar — as well as pedal and lap steel — while driving each track home with his soulful, incendiary voice.
Having spent the past year tirelessly playing ever-larger venues and festivals to a burgeoning fan base, The Marcus King Band was written on the road and recorded during a series of live takes at Carriage House Studios in Stamford, CT. The album captures the energy of the band's blazing live show, as well as the talent of a rising young songwriter reaching well beyond his years.
"The majority of our songs are specific to situations I've lived," King explains. "I write as a form of therapy, to release my emotions into a musical expression. I want people to know they're not the only ones going through that pain. Music is the true healer. And when we perform, we want the audience to leave feeling as tired and as emotionally freed as we do. It's all about getting the stress of the day off your chest. It's like therapy."
The Marcus King Band features Jack Ryan on drums and percussion, Stephen Campbell on bass, Matt Jennings on keys and organ, Dean Mitchell on saxophone, and Justin Johnson on trumpet, trombone and backing vocals. Joining the band on the new album are a number of mentors and collaborators, including Derek Trucks (who plays guitar on "Self-Hatred").
No guest plays a bigger role than Warren Haynes, though. A longtime champion of King's songwriting and guitar prowess, Haynes produced every track on The Marcus King Band (and contributed his trademark slide guitar on "Virginia"), expertly capturing the group's live sound for a cohesive collection reflecting the band's expansive explorations.
"Marcus is the first player I've heard since Derek Trucks to play with the maturity of a musician well beyond his age," Haynes says. "He's very much influenced by the blues, but also by jazz, rock, soul music, and any timeless genres of music. You can hear the influences, but it all comes through him in his own unique way. He has one of those voices that instantly draws you in, and his guitar playing is an extension of his voice and vice versa."
A childhood introvert who leaned heavily on music as a way of expressing himself, King fills The Marcus King Band with a mix of biographical tunes and fictional story songs. "At the time I wrote 'Self-Hatred,' says King, "the girl I was seeing really hurt me. Broke my heart, took all of my insecurities and used them against me…she told me she hated herself for what she had said and done to me. I told her I knew exactly how it feels to hate yourself. 'Self-Hatred' is within you and me."
"Devil's Land" is loosely based on his grandfather, who worked on a farm during his younger years, while the story behind the track "Rita Is Gone" was inspired by the television show Dexter. Meanwhile, songs like "Guitar In My Hands" peek into King's personal life — a life filled with highway mile markers, truck stops, and a nightly rotation of stages, all waiting to be filled with the sound of a genre-bending band on the rise.
"This album is a big melting pot of different kinds of music," says King. "It's the sound of everyone taking their own influences and collectively coming together as a group. We're all really hungry to play, and we're so passionate about this music. I want people to feel the same thing we feel — to leave the show feeling some sense of release. It's almost like the show ends, and everyone can take a deep breath together."
Southern Avenue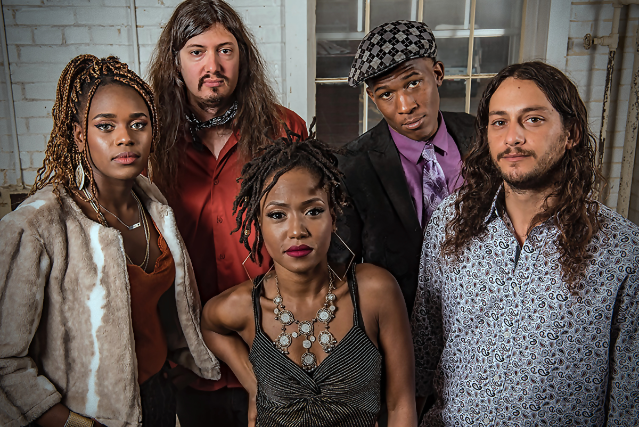 Southern Avenue is a Memphis street that runs from the easternmost part of the city limits all the way to Soulsville, the original home of Stax Records. Southern Avenue is also the name of a fiery young Memphis quintet that embodies its home city's soul, blues and gospel traditions, while adding a youthful spirit and dynamic energy all their own. "If Memphis is a genre, this is it!" proclaims American Blues Scene and Rock 103FM calls Southern Avenue - "The most talked about band in Memphis."
Their self-titled debut album is a breath of fresh air with its own unique blend of gospel- tinged R&B vocals, roots/blues-based guitar work and soul-inspired songwriting. And Southern Avenue's upcoming release on the fabled Stax label is a testament to the young combo's talent and vision.
Southern Avenue features five young but seasoned musicians who came from diverse musical and personal backgrounds to create music that spans their wide-ranging musical interests, while showcasing the powerful chemistry that the group has honed through stage and studio experience. Southern Avenue encompasses Memphis-born, church-bred sisters Tierinii and Tikyra Jackson, respectively a soulful, charismatic singer and a subtle powerful drummer; guitarist Ori Naftaly, an Israeli-born blues disciple who first came to America as an acclaimed solo artist; versatile jazz-inspired bassist Daniel McKee; and the band's newest addition, keyboardist Jeremy Powell, an early alumnus of Stax's legendary music academy.
The band members' diverse skills come together organically on Southern Avenue, scheduled for release on February 24, 2017 via Stax Records, a division of Concord Music Group. Produced by Kevin Houston (North Mississippi Allstars, Lucero, Patty Griffin), the 10-song album features guest appearances from Luther Dickinson of the North Mississippi Allstars and trumpeter Marc Franklin of the Bo-Keys. But it's Southern Avenue's own potent musical chemistry that drives such sublimely soulful originals as "Don't Give Up," "What Did I Do," "It's Gonna Be Alright," "Love Me Right" and "Wildflower." The band also pays tribute to its roots with an incandescent reading of Ann Peebles' Memphis soul classic "Slipped, Tripped and Fell in Love."
The seeds for Southern Avenue's birth were planted when Ori Naftaly, who'd grown up in Israel with a deep-rooted passion for American blues and funk, came to Memphis in 2013 to compete in the prestigious International Blues Challenge. That experience led to Naftaly moving permanently to Memphis and successfully touring the United States with his own band.
Although his talents were embraced by American audiences, Naftaly felt constrained in his own band, feeling the need to include a more expansive, collaborative musical vision. That opportunity arrived when he met Memphis native Tierinii Jackson, who'd gotten her start singing in church, before performing in a series of cover bands and theatrical projects. According to Ori, "When I saw Tierinii perform, I thought, 'This is why I came to America.' I met her and we clicked. At our first rehearsal, she told me that her sister was a drummer, and she thought it would be great to have her in the band. We had such a good vibe, and suddenly I didn't care so much about my solo thing."
"I initially clicked with Ori really well, but it was his project," Tierinii remembers. "Then he came to me and said 'I want this band to be a collaboration, I want this to be our vision and our music.' So we started writing together, and that's when I realized that we were really the same musically."
"We started over," Naftaly continues. "We threw out most of the songs I'd been playing in my solo band, and Tierinii and I wrote a whole new set, and we became Southern Avenue. The more we played together, the closer we got, and the more we became a family. We started getting a different kind of crowd, and from there things escalated quickly."
"Ori said, 'My band is done, this is y'all's band,'" Tierinii recalls. "We all quit our other gigs and started focusing on this, working and writing and living together in a way that you don't experience when you're playing somebody else's music. Now we're playing songs that we wrote ourselves and we're playing them from our hearts. That is when I realized that we had something special."
Despite not having a record deal, Southern Avenue quickly found success touring in America and Europe. They won additional attention playing some prestigious festivals and competing in the International Blues Challenge, in which they represented Memphis. Less than a year after the band's formation, they were signed to the resurgent Stax label. "I feel like being on Stax is a responsibility," says Tierinii. "I grew up in Memphis, seeing the name Stax everywhere. It was a constant presence, and now it's up to us to live up that. I feel like this band can be a platform to do a lot of positive things for the city of Memphis. I want to change the world, but Memphis is home."
Tierinii views Southern Avenue as "a perfect soundtrack to our first year together. We wrote these songs in our first nine months of being a band. We'd all done so many things and come from so many different places, but the music represents all of us. "It's been a real crash course," she continues. "We've haven't been a band for very long, but what we have feels very special, and it's made us a strong unit. I think that we represent something that people need to see right now."
"This band has already made our dreams come true," Ori concludes. "I've waited all my life to be in a band like this, and it's amazing to me that I get to play with these people every night. Our goal is to keep doing this for a long time and leave our mark. We're trying to build a legacy."