Fam Jam Concert Pass
June 24, 2022
8:00 pm
CDT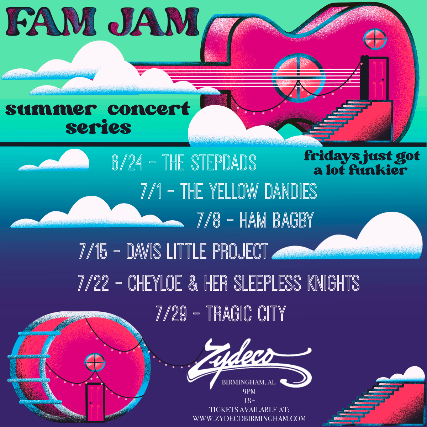 $20.00
This is for entry into all six shows on the Fam Jam Summer Concert Series calender!!!

6/24- The Stepdads
7/1- The Yellow Dandies
7/8- Ham Bagby
7/15- Davis Little Project
7/22- Cheyloe & Her Sleepless Knights
7/29- Tragic City

We look forward to seeing all of our extended FAMily out to show some love for all of these amazig artists!!!


Tragic City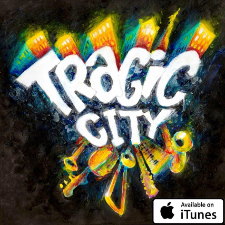 Tragic City is a septet from Birmingham Alabama. Thriving on live performances, we blend jazz, funk, hip-hop, and R&B to share our form of progressive music.
The Stepdads
The Yellow Dandies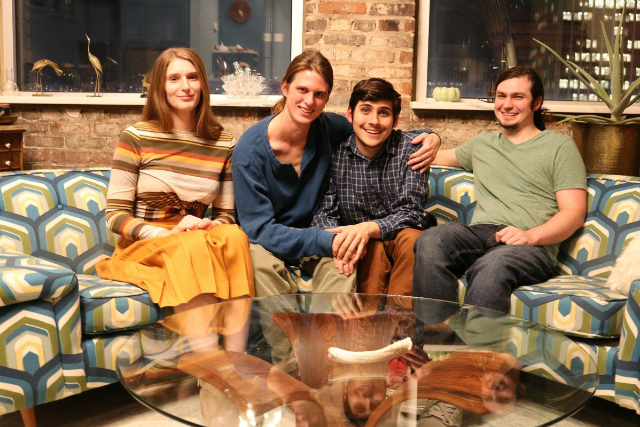 American folk music is a diverse eco-system. Artists working within the style have electrified it, orchestrated it, jazzed it up, smoothed it down, re-mixed it, and preserved its original forms. Hill, Hood, and the Yellow Dandies are out to showcase the music's wild roots and introduce it to new audiences in a provocative, but legitimate way. Blending the traditional and contemporary, the Yellow Dandies approach 60 year old bluegrass standards and 200 year old fiddle tunes with the same manic energy as their own new originals. The band blasts through its live sets with ferocious energy, intricate musicianship, and hilarious songs; keeping the audience on their feet, often dancing, occasionally screaming.

Bailey "Keystone" Hill and Ben Hood formed the band in early 2016 after getting together to record some of their favorite fiddle tunes and original songs; this project soon turned into the band's first album, "The Fun of Reckless and Indiscriminate Merry Making." Ryan Brown's thunderous bass, and Aerin de Russy's blazing, contest fiddling were thrown into the mix, and the band kick-started their invasion of Alabama. From day one, the Dandies have been guided by a single principle: "Every tune must be interesting and original enough to justify its public performance." Whether this manifests its self in their textured arrangements, eclectic, style mashes, or gleefully, chaotic lyrics, the band has never failed to find innovative elements for each number.

Hill, Hood, and The Yellow Dandies approach old-time and bluegrass standards with a combination of their usual raucous energy and precise structuring. Taking influence from groups like The Bothy Band, who revolutionized celtic music with their fiery, yet surgical arrangements of traditional Irish music, The Dandies work hard to give each tune depth and drama. Harmonies, drop-outs, countermelodies, dynamics, tonal color, and countless other musical elements are tweaked to keep often repetitive tunes entertaining and powerful. A classic traditional tune like "Whiskey Before Breakfast," which has been played thousands of times over the past 200 years, is given a "round" style intro by Keystone, Ben, and Aerin, a funky bass line by Ryan, and a healthy mix of melody and improvisation. "Sittin' on Top of the World" plays Keystone's Monroe-inspired bluegrass mandolin against Ben's Django-esque, swing guitar. Every song and tune is branded with the mark of the dandies.

Hill and Hood brew their songs with alternating doses of wit, allusion, irony, and modern, absurdist muppetry. The influence of bluegrass icon, John Hartford's quirky lyrics can't be denied in songs like "Food in the Winter," which proclaims Keystone's love of genetically modified, asexual, frozen fish. But non-traditional musicians like Frank Zappa have also left a defined thumbprint on pieces like the bold march, "Ranch on the Chicken," and the extended "Fun of Reckless and Indiscriminate Merry Making Medley." Tunes like "Flip the World" and "Honey, I'm Here" conjure up an insane mix of Shel Silverstein, Dr Teeth and the Electric Mayhem, and Jimmy Martin. However, despite having small elements of everything from Arvo Pärt to "Nathan for You," The Yellow Dandies' writing is distinctly original in its humor and style.

Hill, Hood, and the Yellow Dandies are guaranteed to wake any crowd up, pump them full of the holy, dandy spirit, and get them hootin, hollerin, dancing, and demanding more. Holy Hell, Hot Damn, it's the boys from Birmingham.
Ham Bagby
Davis Little Project
Cheyloe & Her Sleepless Knight